The Cuisinart PSC-350 Programmable Slow Cookeris an outstanding 3.5 quart programmable slow cooker. It is one of the best slow cookers in the market. There are certain features that made this slow cooker to beat the competition.
The first thing we noticed about this slow cooker is its display functions and cooking time. The timer on this slow cooker allows you to set your cooking time as long as 24 hours or as short as 5 minutes.
Many slow cookers out there will determine the cooking time you should cook your meal. This often results to meals being overcooked or undercooked.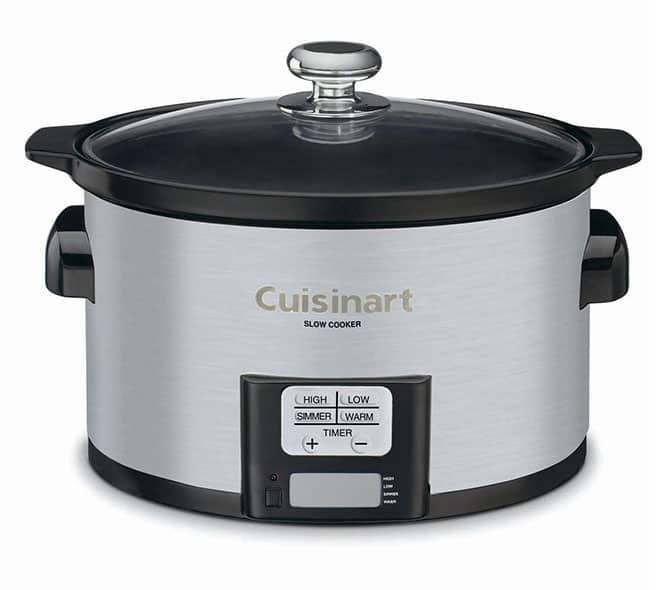 This slow cooker has buttons for high, low, simmer and keep warm mode. Now, the simmer is an added benefit that this slow cooker comes with. No need to simmer your food in a separate pot anymore. Just add your food ingredient and choose simmer and your food will simmer. You can also choose to keep the food on simmer once the main cooking time is done. It has a touchpad LCD big and bright blue display that tells you the progress of the meal.  
The Cuisinart PSC-350 3-1/2 quart slow cooker can comfortably cook for a family of 2-4 persons. It has a beautiful design that adds extra beauty to your kitchen counter. The size is also very suitable for people that do not have much space on their kitchen counter. It has a removable oval ceramic cooking pot that can go from the counter to the dining table. Its attractive design makes it suitable to serve as a serving dish. The handle is stay-cool so that you do not burn your hand when lifting.
The programmable slow cooker allows you to set your meal to cook while you are off to work. After the programmed cooking time is over, the Cuisinart PSC-350 3-1/2 automatically switches to the keep warm mode. This ensures that your meal stays warm until you and your family are ready to eat. The lifting lid protects the hands from burns by staying cool to the touch even while cooking. The see-through cover allows you to see how the meal is cooking without needing to lift the cover which affects the cooking time.
Appearance:
The Cuisinart PSC-350 Programmable Slow Cooker comes in an attractive brushed stainless body, with a big blue digital display. The display window has the increase and decrease timer settings with the option to choose from high, low, simmer, and warm cooking modes. The big blue digital display shows which cooking mode using the indicator light. It has a glass cover with a top handle for easy lifting. The crock pot is ceramic and is removable. The slow cooker has short sturdy black stay-cool handles.
Features:
A removable 3-1/2 quart oval-shaped ceramic cooking pot
Cooking pot and lid is dishwasher friendly
Full instruction manual and various recipes
Programmable slow cooker that allows for high, low, simmer, and keep warm cooking mode
Product dimension is 14.2 x 16.5 x 11.8 inches
Product weighs 9.5 pounds exclusive of shipping weight
Touchpad control panel with clear and bright blue LED timer display
Automatic shift from cooking mode to Warm mode when cooking time is over
24-hour cooking timer
Brushed stainless steel housing
Nonslip rubber feet
Glass lid with chrome-plated knob
Limited 3 years warranty
Pros:
There are some good things about this slow cooker that makes people rush to it. Let us look at some of them:
Comes with a glass lid to see the cooking progress and to keep food ingredients moist
Comes in attractive brushed stainless housing that adds beauty to the kitchen
Ceramic pot that is stick resistant and dishwasher friendly for easy cleaning
Glass lid is also dishwasher friendly
3-quart capacity can cook for more than 2 persons
Cool to touch handles on glass lid and by the side
Has high, low, simmer, and warm buttons to give you variety in cooking
Has 24 hours capacity timer that allows for flexible timing
Bright blue LCD display that enables you to see the cooking time and mode even across the kitchen
Allows you to turn it ON or OFF when you are done
Automatically switches to warm mode after cooking so that your meal does not get cold until you are ready to eat
BPA-free safe meals to give you added peace of mind
Nonslip rubber feet to prevent lid from falling off while cooking
Comes with an instruction manual and recipe hints
Comes with a simmer function that allows you to simmer your meal all in one place
Has 3 years limited warranty
Con:
Side handles are too short
Buyers opinions 
This slow cooker gathered a lot of positive reviews from people. Over the years, over 68% of reviewers gave it 5-star. Not too bad at all!
Our Verdict
Cuisinart PSC-350 Programmable Slow Cooker, when compared with other slow cookers, will give them a run for their money. The beautiful appearance makes the slow cooker one of the best slow cookers out there. It is the only slow cooker that comes with a simmer option. The fact that many people that bought and used the product love it makes us conclude that the slow cooker is a product to go for. The price is also commensurate with the functions it provides.